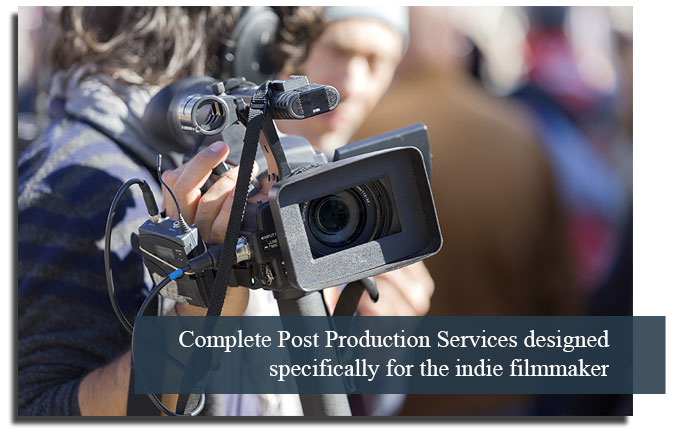 We are proud to provide professional, one-stop-shop postproduction services for film and video projects including independent features, pilots, pitch films, trailers, corporate videos, commercials and music videos. We have the experience and the know-how to not only cut your movie, but to finesse your movie into something that you can submit, screen, distribute, and be proud of.
We love post. We can guide you through the entire process of "finishing" your movie. Today, the post process is more complex than ever. At the same time, the technology available today gives filmmakers incredible power to create stunning productions. The trick is in harnessing the technology. If you've finished shooting a film and are wondering what the next steps are, give us a call. If you're like most and are confused by today's HD standards, output formats, display formats and resolutions, call us. We know it's not easy. That's why we offer a one-stop shop to post-produce and finish that project that you've spent so much of your hard-earned money and time on. We've been there.

Decades of experience (purely in post-production), 3 Primetime Emmy Awards, 14 Emmy Nominations, and 5 Golden Reel awards should be clues enough that you and your project are in good hands at Post In The Woods. We've been in the trenches. We know the issues. Our expertise can guide you in those areas where you aren't quite as comfortable as you'd like to be. No one can know every aspect of filmmaking. We ask you to let us help you through the post process....so that you don't waste time or money.

---
2018 Rates:
AWARD-WINNING FILM & VIDEO EDITING

Features, Trailers, TV Episodics, Shorts, Sizzles and Commercials
$2400/week

(10 hrs/day, 5.5 days per week. Rate includes 4K-ready edit suite, dailies ingest, syncing, etc)

Editing by the hour:
$85/hour


---

PROFESSIONAL FOLEY

$900 per 20 min. of screen time

(Rate variations will occur based on scene content)


---
AWARD-WINNING DIALOGUE EDITING SERVICES


Feature film $4200
Short (up to 18 mins) $850
1/2 Hr. Television Episode $1200
1 Hr. Television Episode $1750



---
AWARD-WINNING SOUND FX EDITING / SOUND DESIGN
Normally a flat rate is established based on content. Please arrange a screening for a quote.


SOUND DESIGN BY THE HOUR
$110/hour
---

AWARD-WINNING ADR / VOICEOVER SERVICES
Studio + recordist: $160/hour



---

MUSIC EDITING
per hour $50


---

FINAL MIX

Feature Rate
$110/hour (2.0 Stereo)
$150/hour (5.1 or 7.1)

Commercial Rate
$130/hour (2.0 Stereo)
$190/hour (5.1 or 7.1)


We can save you thousands on your audio post by combining audio post services.
Ask about our complete film finish packages.